Tenth Annual Dragon Boat Race this Saturday!
Old rivals, classic match-ups to compete at River Dunes' Grace Harbor Marina

RIVER DUNES – The setting is magnificent. Expect genuine, old-fashioned, highly competitive fun! Spectators from all walks of life are invited. Admission is free — just bring canned non-perishable food items for the local Fishes & Loaves Food Bank.
Dragon Boat Racing is the world's fastest growing water sport – and River Dunes offers perhaps the best venue in southeastern USA. The long, narrow vessels are each packed to the gills – a drummer at the front, 20 paddlers, and a steer-person at the back.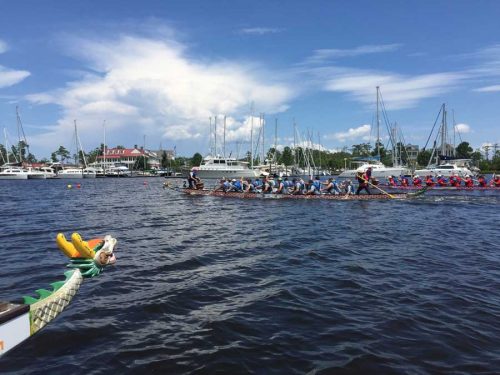 The course measures 300 meters, and each team will race three times. The paddlers themselves are a hearty bunch of wild and crazy characters. The energy that these guys and gals expend during each race is nothing short of phenomenal. You will surely see people you know.
Last year in the Community Division, the Fossil Floaters representing Nutrien relinquished their Fran Deaton Memorial & Perpetual Trophy to the BSA Waverunners – actually Boy Scout Troop 683. The Fossil Floaters / BSA Waverunners rematch is just one of many anticipated races.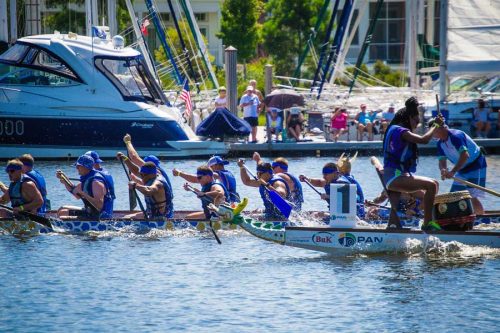 Nothing – absolutely nothing – can obscure the sheer spectacle of the Military Division, comprised this year of four teams: Neuse Winds Freedom Riders, Salty Serpent Dragons, Devil Dog Dragons, and Chesty Pullers – all replete with chiseled Marines from nearby Cherry Point Marine Corps Air Station.
Across the sprawling festival site, these young men and women evoke heartfelt, patriotic blessings throughout the day.
The Survivor Division is comprised of teams committed to a variety of causes – opioid abuse, cancer prevention, and end-of-life care. Please keep these dedicated paddlers in mind when the hat is passed for contributions.
Please join the fun this Saturday. You won't be disappointed.