Stage set for important Jan. 22 hearing

Peek into background of controversy!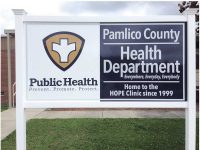 BAYBORO – A majority of elected officials appear poised to adopt a drastic change in the governance of the Pamlico County Health Department – but first the seven-member board of County Commissioners must get past a public hearing scheduled for 7pm on Tuesday, Jan. 22, in the second floor conference room of the Bayboro Courthouse.
Over the last decade, the local health department has seen a revolving door of almost a dozen interim, temporary and/or semi-permanent executive directors. Throughout the turmoil, an appointed and now largely disgruntled board of health has attempted to set policy and oversee administration. Comprised of a dentist, doctor, pharmacist, nurse, engineer, veterinarian, and others – this all-volunteer group believes its authority has been preempted by recent County Commission actions.
The current health department director, Scott Lenhart – unlike some of his predecessors – has the reputation of being a by-the-book administrator. In February of 2017, after just two months on the job, Lenhart ruffled feathers of many on the Pamlico County Commission when he issued a report on the status of the Health Department – giving the department he had recently inherited a D-minus grade.
---
Advertisment
---
Later the same year, upscale property owners in the Windmill Pointe subdivision received letters from the Health Department, implying that their previously issued septic permits might be invalid due to missing or shoddy paperwork – apparent shortcomings within the department's Environmental Health section. The administrative lapses likely occurred during the go-go years of the region's waterfront property valuations – when developers clamored for super-fast approvals on all matters relating to high-end subdivisions. All agree any deficiencies happened long before Lenhart's hiring.
Insiders familiar with the matter say Lenhart had no discretion on the mailing of notices — having received an email from state environmental regulators, which mandated immediate action. Soon, plenty of affected Windmill Pointe property owners were calling and corralling elected officials. They also bent the ears of County Manager Tim Buck, and of anyone else who would listen. And, as you might expect, those same property owners jointly appealed the threatened septic permit revocations.
The appeals were upheld in the fall of 2018 when an Administrative Law Judge sided in favor of the Windmill Pointe property owners. The 'summary judgment' effectively precluded any arguments in the case – an embarrassment to attorneys from the office of the North Carolina Attorney General who had defended and documented the entirely proper conduct of the Pamlico County Health Department.
That is just a bit of the background! Hopefully, concerned citizens who attend the public hearing will learn more. After public comment is received, the Pamlico County Commissioners may well vote to disband the current board of directors for the Health Department – with the seven elected county commissioners assuming direct control and oversight of the department.