Sheriff Asa Buck's statement regarding enforcement of Executive Order No. 147. (Face Coverings)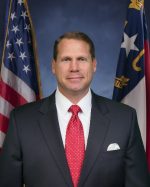 CARTERET COUNTY, NC – There is no provision to charge a person for simply failing to wear a face covering in public. The areas of enforcement only pertain to businesses, certain government and transportation settings. Citations under this order would be issued only to businesses or organizations that fail to enforce the face covering requirement.
Law enforcement personnel are not authorized to enforce the requirement against individual workers, customers or patrons. However, if a business does not allow entry to a customer or patron because that person refuses to wear a face covering, and if that person enters the premises or refuses to leave the premises, law enforcement officers may enforce trespassing laws.
The Sheriff's Office encourages everyone to take safeguards to protect themselves, their families, friends, and neighbors. As a practical matter it would be difficult to enforce the face covering requirements of the Governor's order based on the way the order is worded and the numerous exceptions present in the order; therefore, my Office will not be enforcing the face covering requirements of Executive Order No 147.
A business owner or person in control of an establishment has the right to refuse entry or service to a customer and has the right to ask a person to leave their premises. My office will enforce the criminal trespassing laws if required.
It is my hope that no person pushes the issue to the point that law enforcement would need to be contacted and we would attempt to resolve any trespassing matter without criminal charges unless necessary.
Thank you, always, for your continued support.