Meet Gen. George Washingon!
Professional Reenactor Brian Hilton visits Saturday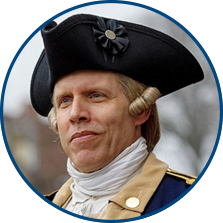 RIVERFRONT CONVENTION CENTER – Register now for this free event in downtown New Bern Saturday, Oct. 2, from 10am until noon. Visit johnlocke.org and click on a link. This is the launch of regular 'time travel' with the John Locke Foundation – as the organization embarks upon the 'Locke History Tour of North Carolina!'
Speakers include Hilton's realistic portrayal of General George Washington, joining us from colonial America, where our nation is a tinderbox of revolutionary sentiment, on the cusp of liberty. The event, and the entire Locke tour, demonstrates how the rich history of North Carolina cities supports Locke's pursuit of freedom. 
There will be light refreshments and giveaways. We can't wait to see you!