Hwy 70 between Raleigh & Morehead City destined to be Interstate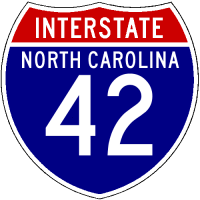 NEW BERN – The project in Craven County is 32 miles long and the upgrade to Interstate standards is expected to cost $25.5 million – round numbers that's about $1 million per mile – give or take a few bucks!
Part of the work happens Monday, Nov. 18, when a highway exit ramp in Craven County will close for about 12 hours Monday while N.C. Department of Transportation contract crews work to bring it up to interstate standards.
Between 6:30 a.m. and 7 p.m. the U.S. 70 East exit ramp onto Clarks Road (where a rest area is located) will be closed. During the closure, NCDOT will add 1.5 inches of asphalt to the existing surface.
Traffic needing access to Clarks Road will continue on U.S. 70 East for about 2 miles to exit 411 (N.C. 43). At the end of the ramp, make a left, go over the bridge, and turn left to head west on U.S. 70 to return to Clarks Road.
---
Advertisment
---
Remaining work along Highway 70 requires crews to widen shoulders, and to mill and repave the highway – to be christened one day as I-42.