FREE SHOWINGS! The award-winning documentary film EATING ANIMALS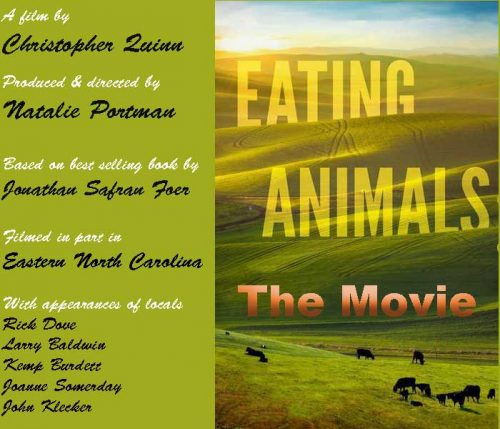 NEW BERN – The award-winning documentary film EATING ANIMALS will be screened in Orringer Auditorium on the Campus of Craven Community College this Friday, Feb. 22. 
Screening times are 2:30 PM and 7:30 PM There is a light reception at 6:30 PM prior to the evening screening. There is no charge for any of the screenings or reception. Reservations are recommended and can be made by going to www.eatinganimals.eventbrite.com to register.
---
Advertisment
---
The documentary tells the stories of the farmers and whistleblowers who are challenging the harmful system of industrialized meat production. The film's champions show us that it's possible, against all odds, to fight the factory farming system and find a path forward that is kinder to our animals, better for our own health, and gentler on our planet.
The film, directed and produced by Christopher Quinn, is based on the book by acclaimed author Jonathan Safran Foer (Everything Is Illuminated, Extremely Loud and Incredibly Close), who also produced alongside Academy Award winner Natalie Portman.
Sundance Selects released the film in theaters in the summer of 2018 and has since premiered in numerous U.S. locations including New York City, Washington DC, Los Angeles, Dallas, Chicago, Boston, Minneapolis, Des Moines, and Little Rock, Arkansas.
Christopher Quinn will be in attendance during both screenings along with two local environmental activists, Rick Dove and Larry Baldwin, both of whom are featured in the film. All three will be available after the film for a question and answer time as well as photo opportunities with Christopher Quinn.