Firefighters combat blaze in single-wide trailer
BAYBORO – Prompt, efficient responses from at least five of Pamlico County's volunteer fire departments – Triangle, Grantsboro-Silverhill, Reelsboro, Olympia, and Florence-Whortonsville – quickly quelled a trailer fire at 1467 Hwy. 304. just north of Bayboro.
Fortunately, no injuries were reported, although veteran firefighter Steve Jennings – wearing oxygen and complete gear – bravely entered the dwelling to ensure that no one was inside. The fire source appeared to be inside a wall, near a rear entry-way door, although no official evaluation has been released.
Nearby trailers would have been at risk, had the fire not been extinguished promptly. Here is a timeline, with photos, of the response.
1:40pm With fire trucks on their way, the front windows of the trailer emit a thick, smokey haze.
1:42pm The first firefighter on the scene deploys a hose
1:43pm Jennings and another firefighter determine that the front door is locked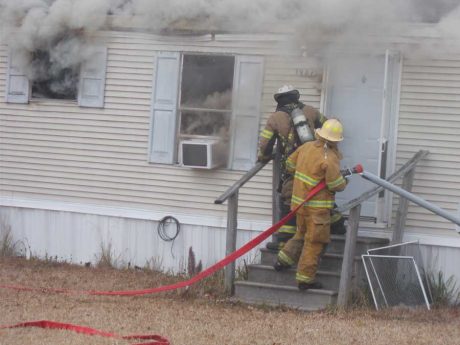 1:44pm Jennings uses a special tool to break a window near the front door.
1:45pm Water flows.
1:46pm Jennings breaks thru the front door.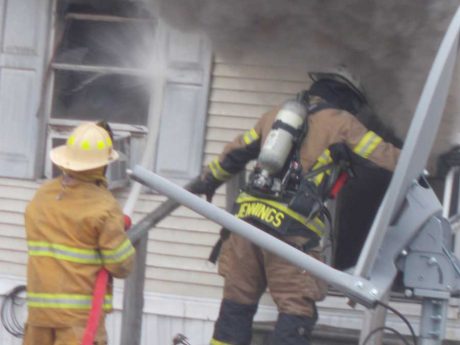 1:47pm Jennings signals to other firefighters that the fire source appears to be at rear of trailer.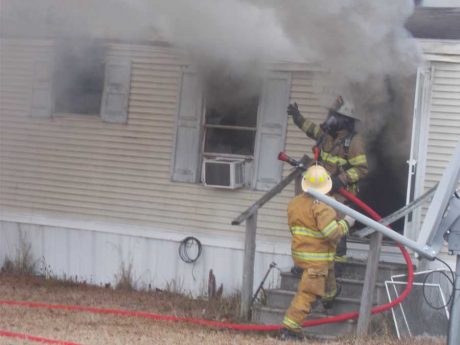 1:48pm The front door is completely removed should unobstructed entry be required.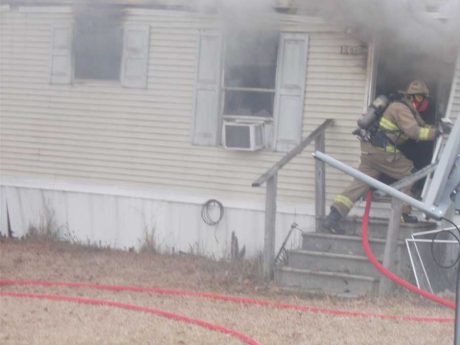 1:50pm A charred rear door and other indicators point to the fire source, which is quickly extinguished.