Faith-based book offers amazing 'back story'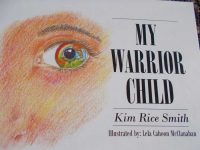 HAVELOCK – Some things are just meant to be – even if  "15 years of life gets in the way," which is the way Christian author and blogger Kim Rice Smith describes her reunification with illustrator Lela Cahoon McClanahan.
"Our kids went to school together here in Havelock at Arthur Edwards Elementary," recalled Kim, as she and Lela swapped memories during a recent interview. "Lela was the 'artsy' mom at the Girl Scout meetings, and at the time I was writing a regular 'parenting' column for the local newspaper. I had written a rough draft of the book, which were basically letters to my kids."
With a Master's Degree in Art Education from East Carolina University, and having received the 2003 Excellence in Teaching Award from Carteret Community College, Lela quickly teamed-up with her new friend, and budding author. In fact, looking back, Kim's fortuitous recruitment of Lela turned out to be a match made in heaven – appropriate, one might say, since both of the then young mothers brought distinct spirituality to their endeavors.
---
Advertisment
---
Lela joyfully cranked out more than a dozen colorful illustrations, most depicting girls at play or pursuing bold adventures – riding horseback at the beach, sailing in a banana-shaped boat, embracing human diversity in the wrinkled face of an older foreign-born man.
Throughout the over-sized, hardback book – christened by Kim with the intriguing title "My Warrior Child" – Lela's colorful renderings are always faithful to her author's simple, yet powerful, prose.
"You pick the book up," explained Lela, "and it has the look and feel of an artist's sketch book. The pictures don't look reproduced. They look like they have been drawn right there on the pages."
But what happened? Why all this time? The interlude is so important to Kim and Lela that the back cover is devoted to an explanation:
"My Warrior Child" expresses the hopes and dreams we all have when our children are small for the adults they will one day become. This book was originally written and illustrated over fifteen years ago as a letter to (Kim's) daughters. Life got in the way, and the book was never submitted. It was considered lost.
One afternoon, while cleaning out an old dresser, an envelope slipped out from behind one of the drawers. This book and the illustrations were in perfect condition all these years later. God's timing is perfect!
Children grow up, but our hopes for them never change. The message of  "My Warrior Child" stands the test of time and is a perfect gift for a young mother or warrior child in your life.
When Lela heard from Kim about discovery of the long-lost tome, she was ecstatic. A great thing, of course – before making the call, Kim felt more than a little chagrin for having misplaced the original draft with Lela's perfectly-suited illustrations.
Lela quickly allayed any and all of Kim's concerns.
"I had written somewhere that I had illustrated a children's book," said Lela, who feared she might have been misstating a credential. "When Kim called, I remember thinking to myself this is wonderful. Now I can truthfully say that I really have illustrated a children's book!"
Editor's note: Kim and Lela are planning a book-signing, ribbon-cutting, pizza-eating kids' extravaganza on Saturday, Nov. 30, from 10 until 2 at 215 Main Street in Havelock, next to Little Caesars Pizza. Look for an advertisement with complete details in next week's issue of the County Compass.