DEATH PENALTY IMPOSED FOR BRUTAL MURDER AND DISMEMBERMENT OF REMAINS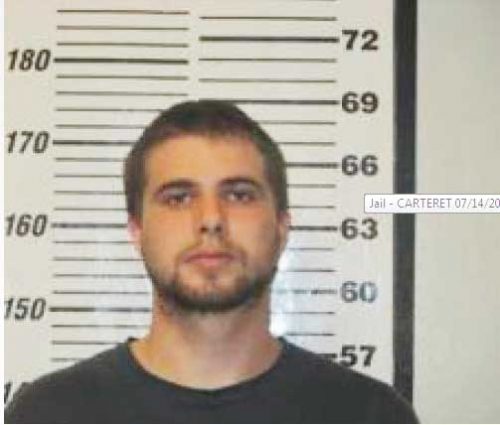 BEAUFORT — District Attorney Scott Thomas announced the death penalty sentence of DAVID ISAIAH GODWIN, 28, of Newport, following a four-week trial in Carteret County Superior Court. On April 12, 2019, a jury found Godwin guilty of first degree murder by premeditation and deliberation, by lying in wait, and by way of felony murder during the commission of armed robbery, common law robbery, and felony dismembering of human remains in the July 4th, 2016 death of 38- year-old Wendy Rae Tamagne of Morehead City. On April 23, 2019, the same jury issued a recommendation that Godwin be sentenced to death, which presiding Resident Superior Court Judge Joshua W. Willey, Jr. then imposed.
Following the sentence, District Attorney Scott Thomas thanked the jury for their service, stating, "We are very appreciative of the jury for their work in this case. They have devoted nearly one month of their lives to this case from jury selection to the final sentence. They have had to listen to and observe gruesome evidence during this trial. They have used their good judgment and common sense to reach guilty verdicts and a sentence."
He continued, "My staff members who prosecuted this case spent months preparing this capital case for trial and nearly one month in court from jury selection through sentencing. They were well prepared and demonstrated their professional abilities on a very tough assignment. The Morehead City Police Department, State Bureau of Investigation, and the State Crime Lab worked diligently to solve this case and provide the evidence needed for a conviction."
District Attorney Thomas also extended his condolences again to the Tamagne family, and added his thoughts: "We committed to the family of Wendy that we would seek justice in her murder. In this case, we decided to seek the death penalty due to the aggravating factors present. Every murder is cruel by its very nature, but the death in this case was especially heinous, atrocious, and cruel. Our prayers continue to be with
Wendy's family and friends as they move forward after this first-degree murder conviction and sentence."
The trial began on March 25, 2019 with a week-long jury selection process to seat the twelve jurors and three alternate jurors who heard the evidence in the case. A capital case is split into two phases – the guilt/innocence phase where the jury determines whether the defendant is guilty of first-degree murder and any related charges, and the sentencing phase, where the jury determines whether a sentence of death, or life without parole, is appropriate.
Beginning April 1, 2019, the State called 21 witnesses over the course of more than four days to present evidence in the case which showed that on the evening of July 5, 2016, Tamagne's mother went to her daughter's apartment off Bridges Street in Morehead City after sending numerous text messages to which her daughter never responded. After knocking on the door of the apartment and not receiving a response, she called the police to report her missing. When Morehead City Police Officers Kenny Mannon and Lori Pittman responded, they were let into the apartment by a maintenance worker where they found a bloody knife on the coffee table in the living room and Tamagne's cat dead inside of a trash can in the kitchen downstairs and sheets covered in blood inside the upstairs master bedroom. Morehead City Police Detectives Lyle Evans and Nat Festerman responded and Det. Evans located Tamagne's body, which had been cut into pieces and concealed inside of trashbags inside an extra bedroom that was being used for storage. Investigation by the North Carolina State Bureau of Investigation (SBI) revealed that Godwin was the last person known to have been with Tamagne when the two of them left a bar together on July 3, 2016 after 11:00 pm and went back to Tamagne's apartment. Phone records showed the last activity from Tamagne's phone occurred at 3:47am before the phone was disabled sometime prior to 8:38am on July 4, 2016.
SBI Agents Ransom Jones and Dean Saunders testified that a hacksaw found in the apartment was traced back to Lowe's Home Improvement in Morehead City, where Godwin was seen making the purchase on surveillance video at 10:55am. Further investigation revealed that Godwin drove Tamagne's pickup truck back to her apartment after purchasing the hacksaw and left again to purchase the trashbags used to conceal the body from CVS Pharmacy in Morehead City at approximately 12:17pm. Godwin left Tamagne's apartment for the final time in the early afternoon of July 4th, making brief stops at his home in Newport and at a grocery store before driving Tamagne's truck to Clayton, NC before setting off on foot to a bus station in Raleigh where he used a false name to purchase one-way ticket to Warrenton, Oregon. Investigators found Tamagne's truck in the parking lot of a gas station in Clayton, NC with its door unlocked, a window rolled down, and the keys on top of the driver's seat. The receipt for the hacksaw purchased from Lowe's was located in the cupholder. On July 9th, 2016 Godwin turned himself in to the Warrenton Police Department in Oregon. SBI ASAC Patrick Raynor, SA Jones, and Detective Festerman traveled to Oregon to return Godwin to North Carolina.
An autopsy of Tamagne's body revealed the cause of death to be asphyxiation, a stab wound near the left ear, and a cutting wound across the trachea. There were no defensive wounds on her body.
The jury deliberated for approximately 80 minutes, and returned its guilty verdicts. The sentencing phase of the trial began on April 16. The State alleged that the aggravating factors necessary for a finding of the death penalty were that (1) the murder was committed while the defendant was engaged in the commission of an armed robbery,
(2) the murder was committed while the defendant was engaged in the commission of dismemberment of human remains, (3) the murder was committed for pecuniary gain, and (4) the murder was especially heinous, atrocious, or cruel. The defense presented evidence in mitigation of the sentence, all of which the jury considered.
The case was prosecuted in court by Assistant District Attorneys David L. Spence, Ashley N. Eatmon, and Augustus D. Willis, with assistance from District Attorney Legal Assistant Michelle Gillikin. The case was investigated by the Morehead City Police Department with assistance from the North Carolina State Bureau of Investigation, the North Carolina State Crime Lab, and the Warrenton, Oregon Police Department. Resident Superior Court Judge Joshua W. Willey, Jr., was the presiding judge. Carteret County Clerk of Superior Court Ken Raper and his staff assisted with the trial proceedings and maintaining the court record of this case. Sheriff Asa Buck and his staff provided courtroom security.