County welcomes new property tax administrator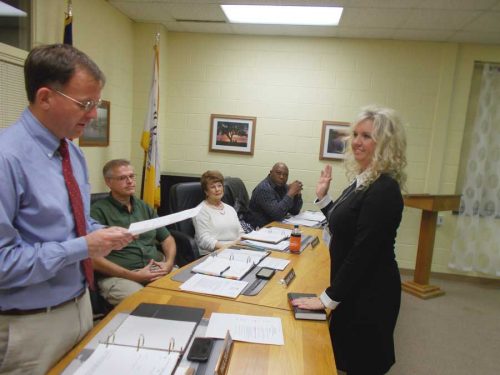 BAYBORO – Her new job comes with heavy responsibility but Leslie Young, born and raised in the deep South, welcomes the challenge – and brings sound credentials with her.
In the adjacent photo, Young takes the oath of office from Pamlico County Commission chairman, Paul Delamar III, as commissioners Ed Riggs Jr., Pat Prescott, and Carl Ollison look on.
---
Advertisment
---
Young is a 1992 graduate from the University of South Carolina at Spartanburg. Her most recent stint in property tax administration came for Spartanburg County from 2014 to 2019 where she was employed as an appraiser for residential and commercial real estate.
Young must hit the ground running. Over the past two years, Pamlico County has endured an every-eight-year ritual – the often dreaded (but required) revaluation of every tax parcel. Formal notices of those new values – some up and some down – will be mailed early in 2020. And, of course, any disputes or questions from property owners will likely require Young's review.
Oh yes – her brief bio says that she avidly follows the Atlanta Braves major league baseball team!
Good luck, Leslie!