'Break Every Chain' announces March 23 lineup of speakers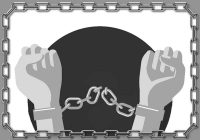 CAMP CAROLINE, ARAPAHOE – In its second year, this community conference of networking people, faith-based organizations, non-profits, agencies, churches, well-wishers, and advocates has announced some details for the jam-packed day.
9:00 – Opening: Albemarle Challenge Choir
10:00 – Promise Place
10:30 – Matthew Knight: 'No Empty Chair'
11:00 – Craven County's Hope
11:30 – HOPE CLINIC
NOON – Lunch provided by Motion Church & The Sound, suggested donation of $3 per person
1:00 – Pamlico County Sheriff Chris Davis
1:30 – Reviving Lives Ministries
2:00 – Pamlico County Partnership
2:30 – Craven-Pamlico Re-Entry Council
3:00 – True Justice International
3:30 – Closing presentation & Convocation
MORE ABOUT PROMISE PLACE:
Advertisement
We strive to build safer communities, free of sexual violence and its impact. Support, education and advocacy are offered in Craven, Jones, and Pamlico Counties.
As the only sexual violence resource center serving the tri-county area, we envision a community where sexual violence will not be tolerated!
Beginning in 1978 as the Craven County sponsored Council on Women, and later operating as Community Coalition Against Family Violence, our organization has garnered a successful history of serving victims of sexual violence and other traumatic experiences, including interpersonal violence, child abuse and neglect, and human trafficking.
---
Advertisement
---
We offer comprehensive, trauma-focused support, including medical and legal advocacy, community resource referrals, outreach and educational presentations, and individual and group therapeutic counseling.
Services are offered to primary and secondary victims. We also provide a 24/7/365 crisis line operated by our trained advocates. Last year the agency was able to serve 419 men, women, children, and adolescents through advocacy services and/or trauma-focused therapy.
For more information about Break Every Chain community conference, please call Eric Dammeyer at (252) 671-2330.