Analyst offers fascinating critique of recent GOP runoff

'Lion's Den' of Pitt County Money matters … or does it?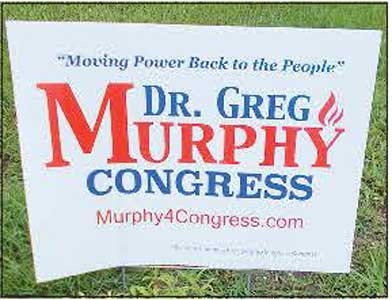 By Lori Worley | Political Analysis
The chips have fallen in the Republican Primary Runoff for the 3rd Congressional District, and voters spoke very loudly and very clearly in handing a 60 percent margin of victory to Dr. Greg Murphy of Pitt County. No surprises here – if you were following Early Voting turnout and the April 30th Primary, and if you believe that data does not lie.
Many (including myself) expected this race to finish much tighter than it did, but it looks like voters were not as motivated by sending a woman to Congress as they were with sending a candidate who will support the very important work of President Trump.
---
Advertisment
---
Yes, that's right. Dr. Joan Perry – while she did not directly stand in opposition to the Oval Office — she also did not boldly pledge her support for the President until it became a talking point from Dr. Murphy's campaign. Let's also not forget the early endorsement for Dr. Murphy by Women for Trump.
While the State Board of Elections will not publish the voter demographic details of the Runoff until canvassing occurs, here's what we can mine from the data so far:
Homecourt advantage: Both candidates covered the basics in a big way – securing landslide support at the polls in their home counties. In Lenoir County, Dr. Perry secured nearly 1,500 more votes than Dr. Murphy. However, this was not enough to offset the same effect for Dr. Murphy in Pitt County, where he landed nearly 3,800 more votes than his opponent. Interestingly, in Lenoir County, both candidates increased their fan base by just under 450 votes each; in Pitt County, Dr. Murphy gained nearly 600 more votes in the runoff and Dr. Perry just under 400 more votes.
Voter turnout: Nearly 6,400 voters from the Primary sat out during the Runoff; I suspect because "their guy/girl" wasn't on the ballot. Nevertheless, voter turnout was over 11 percent in the Runoff, sending a clear message that the stakes were/are high to send a Republican candidate to Congress. Early voting turnout was down by nearly 2,600 voters; however, Election Day turnout proved consistent, with 70 percent of the ballots not cast until Election Day.
Dr. Murphy made his strongest gains in Beaufort, Carteret, Craven, Dare, Pamlico, and Pitt counties – where he garnered over 6,600 votes, collectively, that he did not have in the April Primary.
Both candidates made sizeable gains in Onslow County, increasing their supporters by over 2,000 voters each; however, in the end, Murphy and Perry were nearly tied for total support in Onslow County (difference of only 4 votes). Onslow County, which historically has staunchly supported Republican candidates in every type of election, only turned out at 70 percent of the Primary (2,300 voters stayed home in the Runoff). Probably no surprises here either – with the next-placers being Phil Shepard and Phil Law, who both have a very loyal fan base in Onslow County; in the Primary, Shepherd and Law, collectively, took home 68 percent of the votes in Onslow County.
Historically, six (out of seventeen) counties account for 75 percent of the voter turnout, but suffice it to say that Dare and Pamlico counties delivered the spoiler alert in this one!
Money Matters, or does it? Some of you are thinking that Dr. Murphy secured the Runoff victory because he is a better fundraiser. That would be a no. Victory in a Congressional race can only be secured by number of votes at the ballot box. Yes, more money means access to more advertising and more opportunities to garner name and platform recognition, but in the end only one-for-one votes win a Congressional election.
Networks, powered by individuals, are the machines that win elections.
In financial contributions, Dr. Murphy had 448 donor sources and Dr. Perry had 318; individual donors residing in the Third District were the primary donors for both candidates. Back-of-the-envelope math shows that the ratio of votes cast mirrors the ratio of their donor bases, and Murphy raised $1.50 for every $1 contributed to the Perry campaign – reporting contributions of $539K and $359K, respectively.
Both candidates also garnered healthy support from Political Action Committees, collectively raising $125K from PACs. Even so, Murphy and Perry spent only $177K and $120K, respectively, in the days that followed the Primary election, spending within pennies the same on a per voter basis.
Spending for both candidates in the Runoff averaged $8 per voter; both candidates spent an average of $30 per vote in the Primary. For the combined Primary and Runoff, Murphy and Perry report to have spent $462K and $318K, respectively. That's well over a half million dollars so far, and we still don't have a Congressional representative to show for it!
The Company You Keep. Early in the runoff, Dr. Murphy secured endorsements from Women for Trump, the National Rifle Association, and Representative Mark Meadows (Chair of the House Freedom Caucus). Dr. Joan Perry received endorsements from the Winning for Women Action Fund, former Governor Sarah Palin, all 13 Republican women currently elected to the House, and the late Representative Walter Jones' widow. I will spare you the analytics here, but just based on the handful of endorsements for either candidate, one can see (and feel) the polarized implications this likely had for the Perry campaign.
In the Primary, Dr. Perry held firmly to her Pro-Life platform – even getting some constructive criticism in the Runoff that she needed to expand her platform. So, she did just that, but only shifting to one other issue: Under-representation of women in Congress. If you were watching behind the scenes, you also noted campaign advisers in key counties, who also have reputations for polarizing voters – notably Craven and Carteret counties. On the flip side, Dr. Murphy reached across voter groups – women, guns, and the issues of the Freedom Caucus – who isn't covered in that target audience?!?
The Silver Bullet. So, if it were not money, and voter geography was disproportionate (for whatever reasons), how did Dr. Greg Murphy secure such a large margin of victory in this Runoff? In six years of following and analyzing this district, I can tell you that Dr. Murphy prevailed because his opponent did not go into the lion's den – Pitt County. Yes, that's what I said. You don't have to win Pitt County to win this district, but you also cannot lose this county in a landslide.
When one does not have the homecourt advantage in Pitt County, they must do more than run television and radio ads in that part of the district. It means forging, full speed ahead, into Pitt County. I have always referred to this as the Lion's Den, because no one wants to go in there, it intimidates even the most polished contenders, and qualified candidates will take many/any strategies needed to avoid this place – perhaps that's how/why Pitt County has had this seat gridlocked for the past 50 years.
Now what? We have a Special General Election on September 9 that will vet two Pitt County candidates for service as our next Third District Congressman. The Democratic nominee, Allen Thomas, is a former mayor of Greenville who easily won his Primary (no Runoff required). Murphy, of course, represents Pitt County in the General Assembly. Both of these major party candidates come to the table with varied records of service and execution. There are also two other candidates that will be on the ballot – Tim Harris (Libertarian) and Greg Holt (Constitutional), both reigning from Craven County. Stay tuned – this race is just about to get real!
Lori Ann Worley is a native of Craven County and resides in New Bern with her son, Patrick. She grew up in a family-owned business and has spent most of her 20-year professional career with a locally-based Fortune 500 company. For ten years, she has actively supported and advised in local campaigns for candidates on both sides of the aisle; her focus area is Craven County, with expanded focus specific to the Third District since 2015.