Queen of Steamy Suspense | Author cranks out 12 novels in five years!
AURORA –  Sherri Lupton Hollister's queen credentials are perfectly in tact, based upon the success of her prior tomes, which she describes as "Steamy Small Town Romantic Suspense." I recently emailed this congenial author some questions about her career. And, I believe County Compass readers will thoroughly enjoy her responses: 
Q:  Sherri, looking back, can you pinpoint the time and inspiration when you knew that you
would become a writer? Were you self-motivated or did a teacher, parent, friend play a role?
A: I fell in love with books before I ever learned to read. My mother was a big reader and often read bedtime stories to me. The first book that changed my life and made me want to be a writer was probably A Tree Grows in Brooklyn by Betty Smith. She made the characters come to life and even all these years later I feel as if Francie and her family are old friends. 
Q: Do you have a writing process or ritual? I assume the first few novels were the toughest, or maybe not? Can you write anywhere, or must you have a precise order to things?
A: As a mother of six, I learned to write whenever and wherever I could find a few moments. My husband always made sure I had a few minutes to myself when the kids were little just for my writing but the kids weren't always as accommodating. Editing takes a little more concentration but over the years I've found what works best for me is to write a bare bones story and then come back and add details. With my busy schedule as chairperson for the Pamlico Writers' Group, VP of Communications for the Heart of Carolina Romance Writers, a member of the Town of Aurora Planning Committee, a full-time job and a very large family, time is a premium. I have learned to write notes on my phone, write in 15-minute increments when life allows. I bring my laptop everywhere – from work to doctor's appointments, and when I have a difficult scene I use a small notebook. I find writing things out by hand helps me think them through. 
Q:  Are there one or more writers who have inspired your own writing?
There are so many authors who have inspired me. I am thankful to belong to two awesome writers' groups. My mentor, the award winning cozy mystery author M K Graff, has helped me hone my writing skills and made me believe in myself as a writer. When my agent dropped me, she along with my friend Robina and my husband, David, convinced me I was ready to publish Chrome Pink.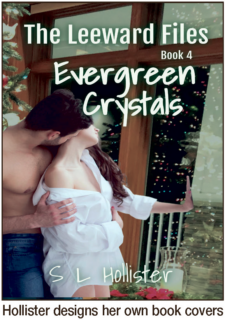 Another writer Jayne Ann Krentz (aka Amanda Quick, aka Jayne Castle) writes in three different genres with a bit of suspense and strong female characters. Her career is what made me believe I could write both historical and contemporary romance. I read and follow several authors but it's the authors I know whose work I've critiqued and who have done the same for me that has made the real difference in my career: Donna Steele, Eileen Lettick, Sandra Cox, Ann Trader, KB Davenport and so many more. 
For any writer who is trying to learn the craft of story telling or improve their writing skills, exchanging works with other writers, reading a variety of genres, poetry, and joining a writers' group is an important part of the process. 
Q:  If you were talking to a young person, perhaps age 12 or so, and they promised you they would READ ONE BOOK (other than those you have written) what would be your recommendation?
A: There is not one book for everyone. I feel that books often speak to us and help us understand ourselves and others, but they are personal. Before suggesting a book, I'd find out what they liked or maybe what they needed to be inspired. Biographies are a great place to start, but in fiction some of my favorites are: Tuck Everlasting, Go Ask Alice, or The Boy in the Striped Pyjamas. A novel by a local author, Leslie Tall Manning: Upside Down in a Laura Ingalls Town was thought provoking. Books should leave an impact and make you think. It should change you.
Q:  I commend you on your website, which is SherriLHollister.com (add that L for your middle
name of Lupton). One quick blip was both amusing and insightful for me — "I finally gave into my dark side and really had fun…I do believe in happy endings even if I have to blow things up and kill people to make it happen." Can you expand upon that just a bit?
A: Ha, ha…I started out as a romance writer way back in high school. I have always believed in happy endings but, lets face it, we all know happy endings don't come cheap. I enjoy adding a little suspense to my stories, giving the characters something or someone to battle to achieve their happy ending besides themselves.
Q: With a dozen or so books under your belt, can you look back on each one, and perhaps have an especially fond passage? And, those 12 books have all been written in just over a short five years? Wow!  Tell us about that!!  
A: I cheated. All of my books have a little bit of my family, friends and community within the pages. Chrome Pink took a couple of years to write and hone, but what I learned working with an agent helped me as I was creating the other stories in the series. My World War II novella, Only in My Dreams starts in a small North Carolina town and goes overseas with an Army nurse. It was inspired by Ms. Ann Windley who was a Navy nurse during WW2. It was originally published in an international historical romance anthology.
The Americans are Coming (my most recent novel — historical cozy mystery) is inspired by an old bullwhip of my husband – that belonged to his grandfather. We lost the whip in a house fire. The story of his grandfather being a performer in a wild west show needed to be remembered so I added it to my fiction. Here is a sample: Doctor John used a whip to pop coins out of the air. He had Winnie and Cassie tossing pennies as he popped them with the tip of his whip.
Q:  We've all heard the adage not to "judge a book by its cover" yet it is clear that you have spent time and effort on each one of your book covers? As an author, please give us your 'opinion' on book covers?
A: Book covers are difficult to get right, but so very important especially online. The cover is the first thing that attracts a reader and it has to be the right one for the genre and to convey the main theme of the story. I struggle to get it right, but I love my covers I've learned to do them myself. Now if I could just get the blurb and tagline right. 
Q:  The Town of Leeward sometimes plays a role –does the fictional Leeward pull from the real-life Town of Aurora??
My contemporary series The Leeward Files and The Harrell Family Chronicles are both set in the fictional town of Leeward, which is greatly inspired by my hometown of Aurora with some influences and mentions of surrounding areas. All of my stories pull from life around me from my family and community to the news. 
Q:  All authors are known for drinking coffee and/or whiskey. Please, share with us what you might sip late at night after a really tough day of writing?? 
A: Well, I think it was Hemingway who said "write drunk, edit sober." I prefer to drink AFTER writing because I'm a bit of a light weight. I enjoy bourbon, my favorite is Bird Dog Blackberry. It's good straight or mixed with ginger ale or ginger beer. My usual drink of choice though is coffee, black when it's hot, or cinnamon latte if it's an iced coffee. I also love chai tea and chai tea latte.  
Q: How do County Compass readers buy your books?   
A: Folks can buy books directly on my website www.sherrilhollister.com or in person for those in the area who may know me! Print books are also available at The Blue Crab in Aurora or Next Chapter Books & Art in New Bern, as well as Riverwalk Gallery in Washington. My books are also online through Amazon, Barnes and Nobel, Books2Read, and other sites.
Title: The Americans are Coming, An Applegate Mystery
Genre: First book in my new cozy mystery series.
Short Blurb:
More comfortable throwing knives than choosing which fork to use, Winnie is out of her element in society. But with her skills as a wild west performer the bad guys are no match for the young sleuth.