Hunting Dogs Shot while 'Running Deer'
Incident leads to tense confrontation between suspect & hunters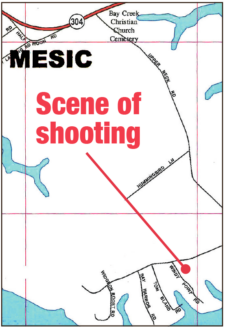 Editor's note: The policy of this newspaper is not to identify suspects in a potential criminal case until formal charges have been filed.
UPPER NECK ROAD NEAR MESIC – Four 'Walker Hounds' were apparently shot Saturday morning. Two died immediately. A third, named "Tiny" – owned by hunter John Paul Jones – hung on until 1am Sunday when she was euthanized at a Havelock veterinarian facility. 
"She made it to a 'cut down' area across the road, where she just collapsed," said Jones. "We had hopes on her. She was raised from a puppy – like a part of the family." 
---
Advertisements
---
A fourth dog was injured. According to a brief phone interview with Jones, all of the dogs involved were wearing GPS collars. 
"At one point, we heard four or five quick shots. My son was looking at the GPS display, and then he said 'two of the dogs is stopped.'
The hunters – carrying their usual firearms –  followed GPS coordinates to a parcel, where the apparent landowner, also armed, would not allow anyone to retrieve the dogs' bodies "until I see a badge," referring to law enforcement. Pamlico County Animal Control officer Berkley Hill was summoned.
"I showed up first, but I was wearing my orange cap and hunter camo," said Hill. "It was a very tense situation. People cussing back and forth, and I did the best I could to control things."
Later, when officers from the Pamlico County Sheriff's Department and North Carolina 
Wildlife Enforcement showed up, Hill quickly snapped photos and collected what evidence was available, as the hunters removed the two dogs' bodies.  
A current website of The Eastern Carolina Houndsmen Alliance reminds hunters and landowners that "killing a hunting dog is a felony, even if the dog is on land where it should not be."
Investigators have refused a request from this newspaper for copies of the photographs, describing them as evidence to be used should criminal prosecution ensue. This newspaper will continue to follow the case as it unfolds.