CALLING ALL REPUBLICANS | Beaufort County Convention set for March 5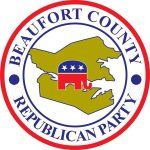 BEAUFORT COUNTY, NC—"'We the People' are called to save our Republic and take America back!" challenges GOP County Chair Carolyn Garris. All registered Republicans in Beaufort County are invited to meet on Saturday, March 5, 2022, at Southern Acres in Bath, according to the Call to Meeting issued by Garris. 
Precincts will meet individually followed by the county convention. During the morning, candidates will be stopping by to address the convention. Southern Acres is located at 3889 NC Hwy 92 E, Bath, NC 27808.
"Republicans, fire up! Get involved and stand up for conservative values!" Garris advocates that one way to join the fight to take America back is to become active in your local precinct (where you live and vote). If you haven't been involved in your precinct or county before, more info is at the "Get Involved" tab at beaufort.nc.gop.
The day will begin with registration at 8:30 a.m. At 9:00 a.m. each precinct will meet for an hour to elect officers and to select delegates and alternates for the county convention.
After a brief break for refreshments and to verify credentials, the county convention will convene at 10:30 a.m. in the same place. To serve as a delegate to the county convention, registered Republicans must be elected by their precinct. The convention fee is $5 per person (cash only, please). 
Convention business will include the selection of delegates and alternates to the district and state Republican conventions, as well as an election to fill vacancies on the Executive Committee. This year's district convention will be in Greenville on the afternoon of April 23 while the state convention is planned for Greensboro on May 19-22.
At noon when business is concluded, the party will host a Meet & Greet for all Republican candidates for office. Candidates will be at Southern Acres so that voters can visit with them in a casual setting.
At the February 8 meeting of the county GOP, Representative Keith Kidwell encouraged members, "Do not let the tedious re-districting process dampen our enthusiasm! Focus on November with a 3-2-1 formula—to elect 3 additional seats in the House, 2 additional seats in the Senate, 1 additional seat on the NC Supreme Court."
In November, the Republican Party opened its headquarters in Washington Plaza on 15th Street. In Suite 844, volunteers are assisting with voter registration and distributing yard signs for candidates. 
In January, the new headquarters was the site of a session that trained folks to help protect election integrity and prepare for "boots on the ground" during the 2022 mid-term elections. 
If you have questions about your precinct or voter registration, stop in at headquarters or call 252.495.4029. For questions about this press release, contact Anne Maatman at Email jamaatman@gmail.com or cell phone number  712.540.7284