'AEROSOL PARTICLES SMALL ENOUGH TO GO THRU ANY MASK'
Indiana doctor's articulate, coherent presentation temporarily eludes social media video censors, netting millions of views!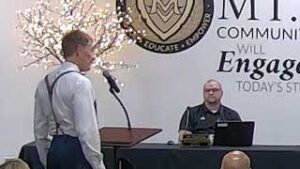 MT. VERNON, INDIANA – Thanks to many alert readers, each day I receive a ton of Internet 'links' to hot topic articles and videos. Monday morning, I opened an email from my friend Rick Happ, who urged me to "watch this YouTube video quickly, before Google takes it down."
I immediately complied. On Aug. 6, in less than seven minutes during a meeting of the local school board, Dr. Dan Stock had given absolutely the best synopsis of what has happened over the past 18 months. The physician was incredible. Speaking from no notes whatsoever, and doing so completely from his heart, this man became my personal pandemic hero.
As Happ suggested, this brief video experience might have been short-lived. However, I had the presence of mind to ask Ken Edwards – a long-time Compass staffer who is a technology wizard – to capture the video. As he always does, Ken came through for me. I now have my own personal copy of Dr. Stock's marvelous critique! And, sure enough, later that day Google deleted the video, citing a failure to follow "community guidelines."
In a passionate but respectful tone, Stock decries the 'false narrative' being promulgated by the Center for Disease Control and the National Institute of Health. He also confirmed that Dr. Anthony Fauci and other high-ranking officials "don't bother to read the science."
Up until that moment on Monday, I have always tried to give our government the benefit of any doubt that I may have had. Not so anymore. If any readers would like to see the video for themselves, please send an email directly to me: jeff@compassnews360.com I will promptly respond with an attachment that I am quite sure you will enjoy!