Troop 683 of Pamlico County has another 'Eagle' ready to land.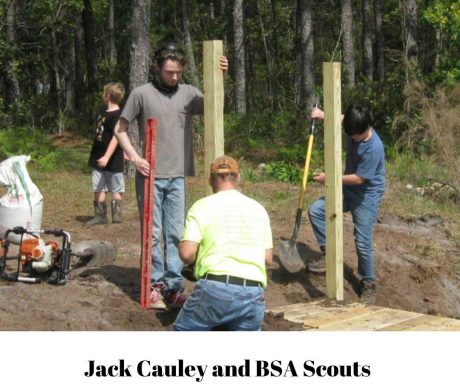 Pamlico High School Sophomore Jack Cauley, members of Troop 683, and volunteers joined forces recently to complete Cauley's Eagle Project at the Pamlico Community College firefighters' training field.
Assistant Scout Master David Spruill is also an instructor at Pamlico Community College. He mentioned the firefighters were having to use a stack of pallets to cross a ditch while wearing heavy equipment. Jack and his mentor, David Hollister (who is also Jack's grandfather) decided this was a great project and presented the idea to the Eagle Board on March 17. With a few changes, the Board gave its go-ahead for the ambitious project. 
Jack will soon appear before the Eagle Board to present his report on the finished project.  If all goes well, Jack will be the ninth Eagle in the past five years for Troop 683 and Scout Master Roger Stewart.