2021 Alumnus of the Year goes to PCC graduate Joyce Swimm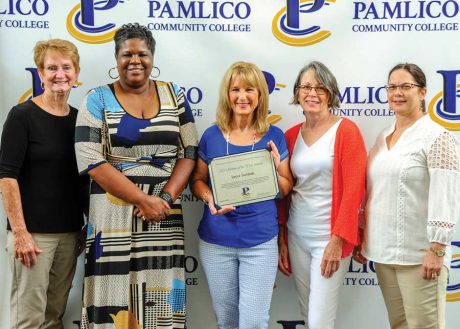 PCC CAMPUS – Joyce Swimm, center, accepts the 2021 Pamlico Community College Alumnus of the Year Award during the July 26 meeting of the PCC Foundation Board of Directors. Swimm, a 1996 PCC graduate, currently works as office manager at Pamlico Christian Academy and also serves as co-pastor at The Firehouse Church in Reelsboro with her husband, Garth Swimm Jr. She formerly served as executive director of the Pamlico County Chamber of Commerce.
Nominators noted Swimm's integrity, saying she was highly respected by peers and was always willing to lend a helping hand. They also called her a "calming force" in the workplace. Joining Swimm, from left, are her sister Jean Davenport, 2020 PCC Alumnus of the Year Violet Ollison, PCC Foundation Executive Director Michelle Noevere, and 2011 PCC Alumnus of the Year Beth Bucksot. The PCC Alumnus of the Year Award is traditionally presented at the college's Commencement ceremony, but was moved to the July Foundation Board of Directors meeting because of restrictions surrounding the COVID-19 pandemic.